Hard Rock Park | The Birth of a Rock 'n' Roll Theme Park
Hard Rock Park officially opened for business last week with much fanfare. The $400 million Myrtle Beach park was six years in the making. In May I visited the park for the Media Preview during the Sound Check or soft opening. As a seasoned theme park enthusiast, I was impressed by the level of detail and ingenuity that the creators employed while creating the world's first rock 'n' roll theme park. During my behind the scenes tour I got to sit down with Jon Binkowski, the Chief Creative Officer.
This is Hard Rock's first foray into the amusement park industry, so the creators weren't hindered by a template they were forced to adhere to. This allowed them to use their creativity to come up with some really unique ideas both large and small to create a one-of-a-kind experience. The fledgling park is laid out to encourage families to stay together. Each rock-themed section has attractions for the youngest family members, teens, and adults.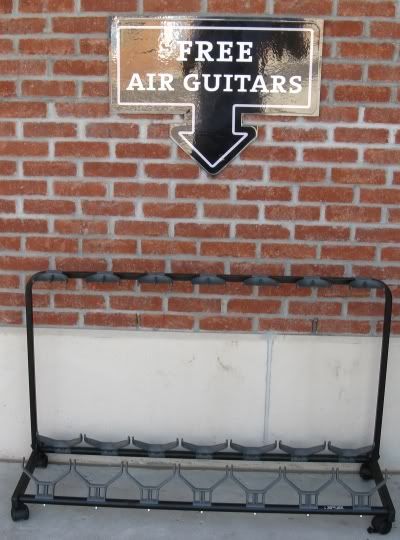 Discoveries Make a Unique Experience
As guests explore the park they will be surprised by "discoveries" that enhance the experience. There are too many to list, but a few examples include: the red London phone booths in the British Rock Invasion section, the interactive statue in Cool Country and the trick mirror in the bathroom in Rock & Roll Heaven. Guests should keep their eyes peeled as they enjoy the park, because they'll be likely to run into some unsuspected surprises. From my interview with Binkowski and the special media tour, it was clear that Hard Rock Park went above and beyond in designing a unique experience that incorporates rock music beyond the major attractions. Hard Rock Parks has infused attitude and ingenuity into nearly every aspect.
Rock & Roll Heaven
Rock & Roll Heaven has a tropical paradise feel. Guests can cool off in the Reggae River Falls, get some island eats at the upscale cafeteria with tikis of famous artists or enjoy the Malibu Beach Party show which features beach music, stunts, and diving. The Rock Garden is a memorial area with dozens of bricks that pay homage to deceased musicians from Johnny Cash to Tupac Shakur.
Rock & Roll Heaven is also home to the park's marquee thrill ride, Led Zeppelin – The Ride. More than just another state-of-the-art looping roller coaster, Led Zeppelin features an immersive experience including a mini-live concert and onboard speakers blasting the band's hit "Whole Lotta Love". With a twisted layout that's partially over water, six loops, and speeds of 65 mph, it's quite a memorable ride. Check out my full Led Zeppelin coaster review.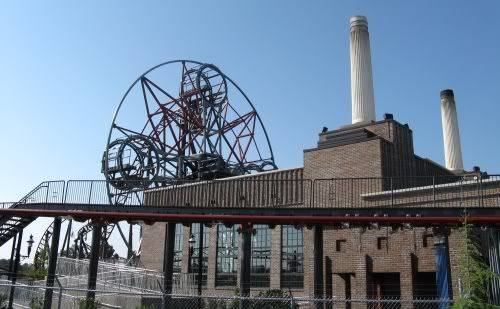 British Invasion
Next, guests can hop across the pond to the British Invasion area. Complete with red London phone booths where guests will receive calls from the likes of Sgt. Peppers and a Magic Mushroom Garden this is the possibly the park's best themed area. Most will be immediately drawn to Maximum RPM! It's a first-of-its-kind roller coaster that features a unique lift mechanism that resembling a ferris wheel or in this case, the London Eye. More on Maximum RPM!…>>>

Like the park's other attractions, music is infused into several aspects of the ride. Guests waiting in the air-conditioned queue line will be treated to 80's New Wave karaoke performances from volunteers in line. So, if by chance the line moves slowly, at
least you'll get to hear some guy murder an old Duran Duran song. Once aboard the British sports cars, riders will get to choose a song for their lift and for the rest of the ride.
British Invasion is also home to the dark ride Nights in White Satin The Trip. It's a psychedelic 3D journey into the Moody Blues classic song with some great imagery. There's also the Roadies Stunt Show, a London cab-themed spinning ride, and a groovy 60's style restaurant complete with authentic English food like bangers with mash. There's even an Austin Powers look-a-like with two babes on his arms entertaining the masses.
Born in the USA
Located, in the Born in the USA section, Hard Rock Park's Live Amphitheater holds up to 10,000 fans that have already enjoyed acts like The Eagles and Kid Rock. It's set to feature a summer full of acts to round out the rock experience. Shake Rattle 'n' Rollercoaster is the park's kiddie coaster. It will be a good attraction for parents who want to ride with their kids and it even features a parent swap area in the station.
Slippery When Wet is a suspended roller coaster adjacent to the Kids Rock! State Park. It's a camp-themed area that includes rock climbing, rope bridges, forts, and water play areas. On Slippery When Wet four person cars are lifted five stories in the air then released to begin a winding path over the water play area below. Meanwhile, onlookers can man large water canons and take aim at the riders flying overhead. More on Slippery When Wet…>>>As with most attractions, Hard Rock Park, adds an innovative spin to this concept. While riders are in danger of getting sprayed, they do have a way to retaliate. Every car features a green button that sends a radio signal to shower the heads above the people who are using the canons. The buttons weren't operational when I was there, but it sounds like revenge will be sweet.
Cool Country
Cool Country is home to Eagles: Life in the Fast Lane. It's a mine train roller coaster boasting an on-board high-fidelity digital audio system, with a special version of the Eagles "Life in the Fast Lane."
It's more tame than Led Zeppelin – The Ride, but still offers a fun ride that's packed with some mid-level g-forces via twists and turns and two lift hills. Eagles will be a great ride for the whole family.
In Cool Country, guests will also enjoy the giant swing ride and the Ice House Theater. Binkowski owned the theater before the park was built. In front of the theater is another discovery. Rock Cow Billy, a bronze statue of a rockabilly cow interacts with greets guests, flirts with ladies, and may even spray you with its udders. Inside you'll find a very entertaining ice show called Country on the Rocks. The show features a cast of talented skaters and Country/Rock hits like "Save a Horse (Ride a Cowboy)".
Bohemian Rhapsody Fireworks & Laser Show
Guests can finish their day at the park with the Bohemian Rhapsody fireworks and laser show. Right over the pond, fireworks are synchronized in time with the classic Queen hit. Even the 70-foot Gibson guitar gets in on the act. For a brand new park, Hard Rock Park has excellent theming and a lot to offer.
You have to tip your hat to the ingenuity of the creators in creating something memorable and different when they could have created another paint by numbers theme park with the same stale ideas. Hard Rock Park should be on anyone's short list of new attractions to visit this summer.
For more, visit the web site: Hard Rock Park
Have you been to Hard Rock Park? What'd you think? Leave a comment below.